Mel & Gabe kicked off their marriage in the best way.
They were surrounded by those they love most; the ones that love them back just as much. They put careful consideration into each detail (like Varsity Donuts as their dessert because they both used to work there, the outtakes from their engagement session printed in their guest book, wine colored bridesmaid dresses and silk ribbon from Silk & Willow, and so many more), yet they let things be as they were. They didn't rush, rather they took their time to take it all in. They didn't sweat the small stuff, because they knew that they had one goal that day: to get married surrounded by their loved ones. Everything else was a bonus, from the Disney Pixar-like clouds (in the midst of a tornadic week) and the nice breeze to the seemingly flawless flow of the day...it was just blessed.
And sweet. And goofy.
A special thanks to Shelby of Liana Moments and The Fellow for coming alongside me to capture this wonderful day. The girls got an eye for the moments and heart for people, that's for sure!
Venue: Liquid Art Winery
Ceremony Set-Up: Supply Events
Linen: Abby Wempe Events
Dress: Sarah Seven
Belt: Untamed Petals by Amanda Judge
Shoes: Anthropologie
Garter: Loulouimeli
Bridemaid's Dresses: LuLus
Tux: Borck Brothers
Flowers: Acme! Gift
Silk: Silk & Willow
Hair/Make-up: Arden Swanson
Guest Dessert: Varsity Donuts
Cake: Mel's bridesmaid Hannah Robinson
 
Mel spent the morning and early afternoon with coffee and her closest gals. Shelby, my trusty partner-in-crime for the day, and I were lucky enough to share in Mel's last morning as a miss. Lots of laughter, dancing, and stop-you-in-your-tracks-take-your-breath-away kind of moments were shared. A sweet morning with some sweet ladies.
Gabe and his fellas went out for lunch while the ladies got ready. When I saw Gabe before he left for lunch I asked him if he was ready to marry Mel.
"You bet I am." Confident. Excited. Ready.
(The pup pictured is Carl. She, yes that's right, she was lovingly named Kira and her name changed while her mom was in college...we have Mad Tv to thank for this one! If you ever have the pleasure to visit this venue, I'm sure you'll get to meet Carl too)
Mel's first-look with her dad was one of the sweetest moments I've had the pleasure of capturing. She didn't have "something blue," so her dad pulled out his blue Pilot ballpoint pen that he always carries in his shirt pocket and made a tiny mark on her wrist. (I know, I know...grab the tissues!)
I know! Gorgeous right? These Flint Hills are something else.
As Mel waited for the ceremony to start, she and her bridesmaids held hands and beautifully sang the Doxology as a prayer. Then they continued to pray and each one prayed of blessings, joy and the Lord's sovereignty over Mel & Gabe as they enter into their marriage.
After the ceremony and formal photos, Mel, Gabe, Shelby and I went adventuring through the hilly vineyard. It was so, so good.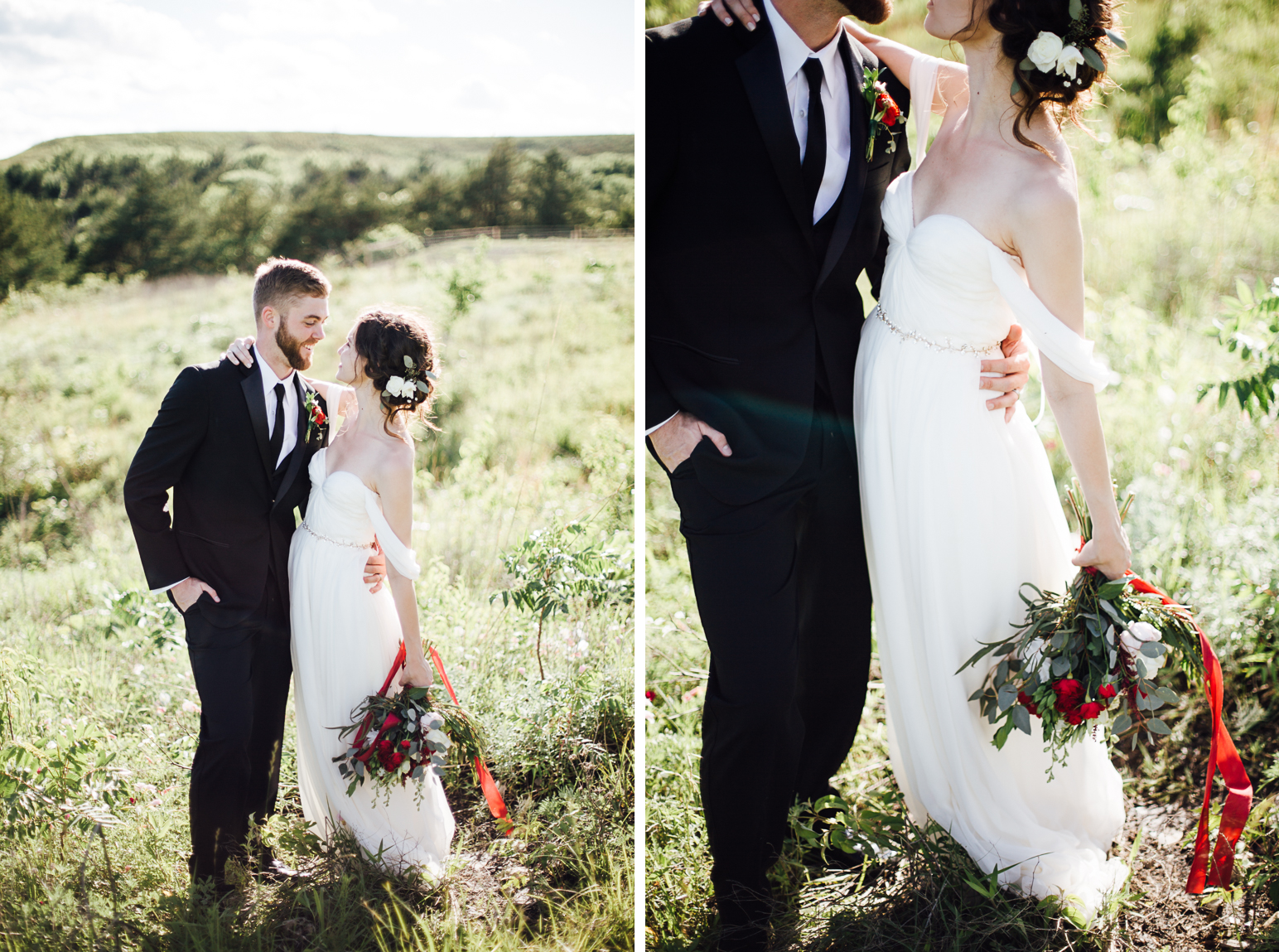 The rest of the night was just as full as the day. Sweet & goofy company all around with lots of laughter and dancing like no one was watching!
Mel & Gabe, thank you so much for trusting Shelby and me with capturing your wedding day. You two are so, so near and dear to me and I was simply grateful to be there to witness your unity (the picture taking was a huge bonus)! I know that God has some awesome things in store for you two as you continue to seek Him, simply because He is a good, good Father. Keep your eyes on Him in all that you do. I have been so encouraged by you both thus far. Love you guys and I cannot wait to see what you two do in this life as a team!
Warmly,
Emma